Sneakers - how to wear them?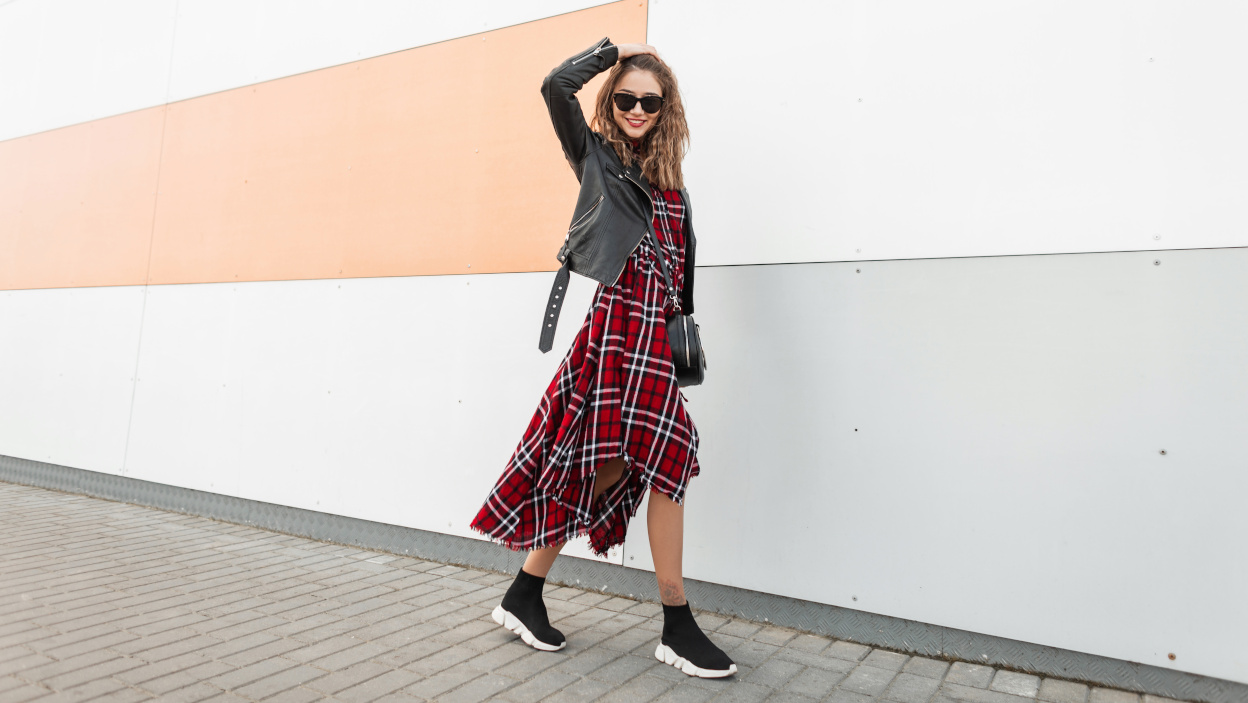 Dress sneakers are a simple idea for a style where relaxation and freedom reign. This does not mean that with their participation it is impossible to compose an ensemble that also includes femininity and even elegance. We're about to show you that it's not that difficult and the benefits are numerous. Wearing snakers with a dress offers a lot of comfort - after all, it's not the high heels we like, but it's hard to say that these are shoes for long hours of walking. It's different with sneakers - the foot has a lot of space here, and the flat sole and soft inserts inside make it impossible to feel the slightest discomfort even after many hours. Another advantage is the style that sneakers bring to the style. There is youth and sportsmanship in these shoes, so the style with their participation immediately acquires such a character. Are you not convinced? Discover urban outfit ideas with pink sneakers in this article - these shoes do a good job! If you are wondering whether the sneakers match the dress, our styles below will clear your doubts. Maybe this is the idea for you?
Colorful style with a dress and sneakers
Our first proposal is aimed at women who like suits in which they are most comfortable. A sweatshirt dress soft cotton knit or cotton-polyester blend will be perfect for this role . Our choice fell on a sweatshirt model with a belt emphasizing the waist - thanks to it, the silhouette gains clear lines and lightness. Which sneakers for a dress like this? The most fashionable shoes of the season will be best - sneakers made of combined materials, attracting attention with colorful inserts and, of course, a fancy thick sole. To run around the city in this style you will need a large shopping bag (for documents, tablet and who knows what else!). Complete it all with simple jewelry, for example a fashionable "chain" bracelet or a sports watch . A baseball cap in a contrasting color and a knitted bomber jacket are also perfect for this ensemble.
Stylish sneakers and a dress
Can sneakers and a dress create a stylish and tasteful ensemble? Yes of course. It all depends on the choice of cuts and materials, colors are also important. It has long been known that some of them are considered stylish and elegant - for example, navy blue, black, white, beige or caramel brown. If you dream of a stylish ensemble with an urban character coupled with elegance, choose a shirt dress in these colors, for example decorated with a geometric pattern. Boots? White sneakers minimalists in the style of sneakers, made of smooth grain leather will be a bull's eye. In such stylization, it really doesn't take much to make it look chic - add a gold watch with a bracelet and a handbag (a messenger bag on a chain or a rounded model) and you're ready . White sneakers with a dress decorated with an interesting pattern look really great. In such a set, you can successfully go shopping in a shopping center, but also with your friends for a coffee. Elegant and casual - perfect for a modern woman!
Sneakers are undoubtedly one of the favorite styles of modern women. You probably have more than one pair in your wardrobe yourself. Remember that they can be used for many styles, not just those of a sporty nature. Designers gave them a new role a long time ago - now these are shoes for urban ensembles, so you can successfully combine them with many everyday clothes. Black, white, decorated with animal patterns, with metallic inserts and catchy graphics - sneakers are now one of the most interesting shoe models worth paying attention to. Sneakers for dresses, sneakers for skirts, jeans and chinos - this is a universal type that offers countless styling possibilities. Have fun with fashion and experiment!