Fashionable outfits for fall
I love summer, delicate dresses and knotted sandals, but fall is what's closest to my heart when it comes to fashion and new trends. In my opinion, fall weather gives the greatest latitude in terms of clothing. Here, a dress is no longer enough, with shoes and a handbag. Autumn stylizations are mainly layered clothes, it is layered, it is warm sweaters and roomy coats. Here you have to be inventive, and every layer counts.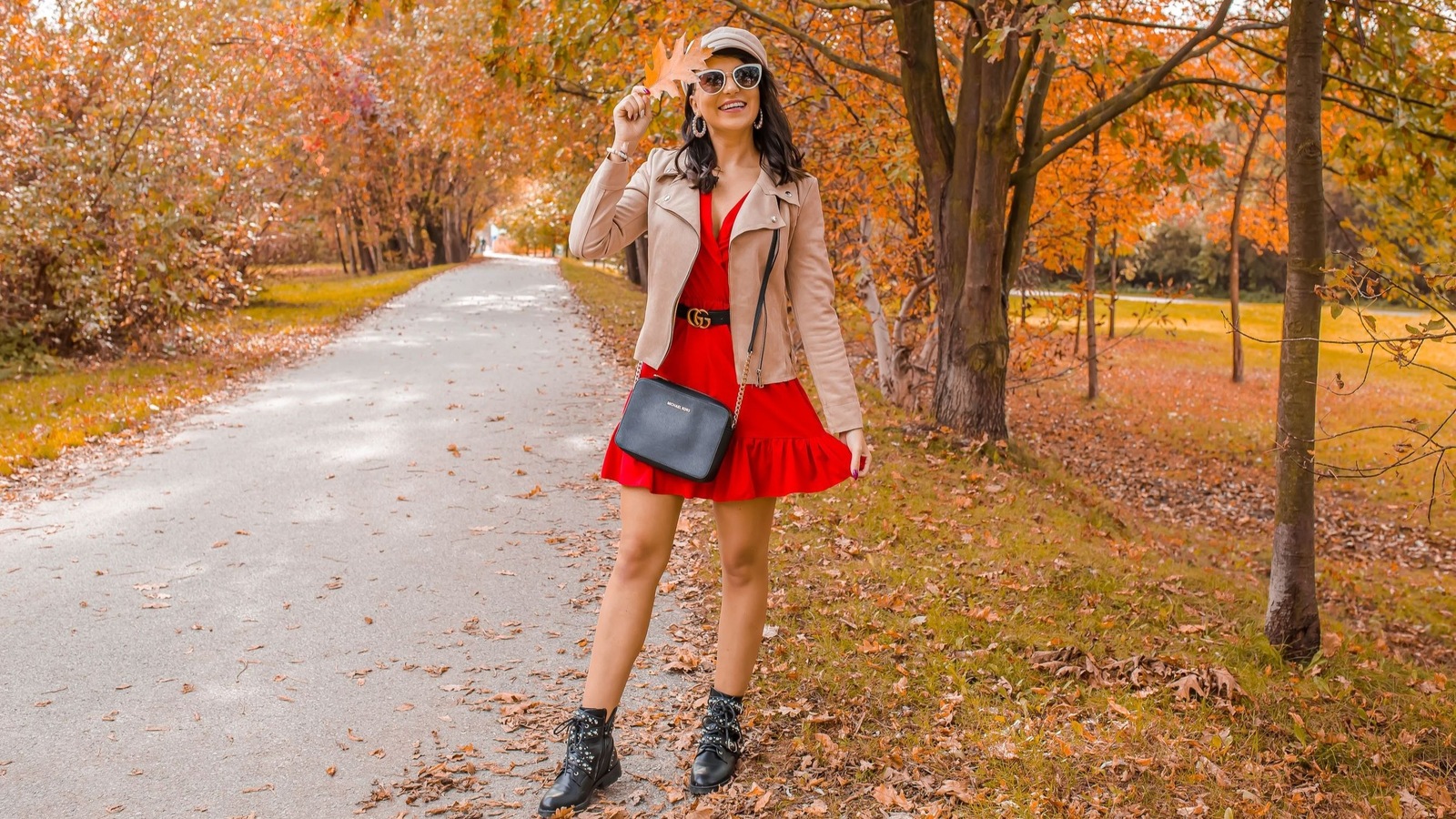 Autumn is also new trends which we look forward to. This year, designers prepared their trend proposals for the fall-winter 2020 season, completely unaware that a pandemic awaits us, and the whole world will hold its breath for a moment. No one thought that for many of us the pandemic would mean a home office, and therefore - instead of stiff jackets, comfortable and soft outerwear will be needed in the wardrobe. If fashion has turned around, that doesn't mean that trends are completely abandoned. Especially for you, I have prepared 3 different outfits for fall with wardrobe items that each of us should have in our wardrobe.
Trends: neutral colors, "dramatic" styles, pearls
This fall, designers are focusing on a neutral color palette. We wear white, beige, brown and vanilla clothes. They can both be mixed and worn in the form of total look, that is - say one color from head to toe. They look beautiful when combined with gold and powder pink. I bought a delicate sweater that highlights the shoulders. It looks great in combination with a tulle skirt and classic jeans. Thanks to its versatility, it will be perfect for a date or larger outings. A ramones jacket in a light shade of brown adds character to the stylization and allows you to survive autumn walks.
THE victorian style clothing are another big trend this season . Richly decorated collars, cascades of ruffles, huge puffs on the sleeves, flared dresses on frames, lots of lace, velvet and tulle. In my styling, I put on a tulle skirt, which adds volume, but looks amazing! You can feel like Queen Victoria, a trendsetter in 19th century England.
I completed the whole style with pearl jewelry, which have been with us since last winter and which are still a strong trend.
Trends: red, highlighted shoulders, fall hats
One of the most fashionable colors this fall is undeniably bright red. Fashion houses such as Bottega Veneta, Rodarte, Valentino and Carolina Herrera have featured it in their collections. I also opted for a red dress. The chosen cut highlights the waist and neckline. It ends in a perfect place, about 10 cm above the knee, so it does not visually widen the legs. THE well defined shoulders are another important trend . It's an element of style power dressing, which comes from the end of the 70s and regularly returns to favor. In addition to the dress with ruffles and highlighted shoulders, I chose a Ramones jacket for this outfit, which exposes the shoulders and is also an element of the style power dressing.
In autumn, we don't forget the hats. This season, hats baker are still very fashionable . Their name comes from the 19th century, young boys distributing newspapers and those studying at bakers who wore such headgear every day. It's 2020 and, as it turns out, the cap baker boy East perfect for feminine styling. Adds character and saves in case of bad hair day.
Trend: tracksuit
At the beginning of 2020, designers preparing collections for the fall-winter 2020 season did not know what we would face. We had no idea that we would be locked in houses for a while, where - it is impossible to hide - wearing stiff jackets would not be the best solution. Suddenly, major fashion houses and chain stores started releasing variations on a classic tracksuit in their collections . The offerings included many colors, patterns and cuts.
I put on a gray tracksuit. It was sewn in Poland, so by purchasing it I am supporting local artisans. It's not classic, because the pants are slim, while the sweatshirt is shorter and ends around the waist. Most importantly, it looks great in combination with a tulle skirt from the first style! Because fashion is all about fun and it's fun to wear a theatrical skirt with a plain gray sweatshirt. And this fall, regardless of the weather conditions, I recommend playing with fashion.